We love breakfast, no matter when it's served. Who doesn't? So when we heard that our friends Lindsay Landis and Taylor Hackbarth were working on a cookbook full of breakfast recipes for dinner, we got pretty excited.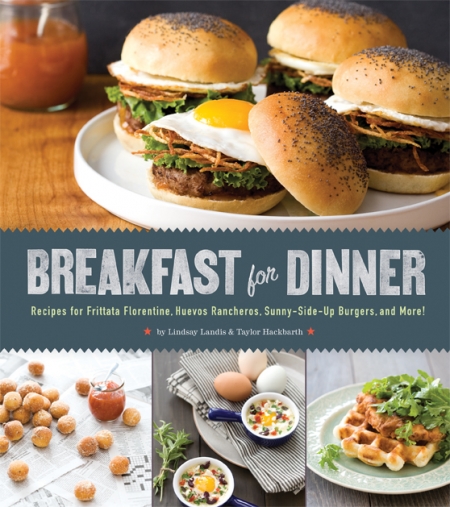 "Breakfast for Dinner: Recipes for Frittata Florentine, Huevos Rancheros, Sunny-Side-Up Burgers" is now available in bookstores and we have to admit, we're totally blown away. Lindsay and Taylor are the heart and soul of Purr Design in Nashville, so we expected the book to have impeccable design. But what really blew us away were the styling, the photography and the food. Wow!
Here are just a few of the recipes we're excited to try for ourselves:
Steak & Eggs Benedict
Shaksuka (eggs poached in tomato sauce)
Frittata Florentine
Andouille Shrimp & Grits
Huevos Rancheros Tacos
Goat Cheese Monte Cristos
Polenta Cakes with Shiitake Mushrooms
Cornmeal Pancakes with Beer-Braised Short Ribs
Grapefruit Risotto with Seared Scallops
Chicken & Biscuit Waffles
Habanero-Cheddar Bread Pudding
Asparagus Pastry Tart
Moroccan Chicken Cinnamon Rolls
Bloody Mary Tomato Soup
Grapefruit Herb Sodas
Blood Orange Mimosa Sorbet
The book is already getting rave reviews and deservedly so.
"Landis and her husband/co-blogger Hackbarth bring elegance, ethnic variety, and whimsy to breakfast favorites served as dinner…this is a fun, versatile, and beautifully photographed collection."
–Library Journal

"A wake-up call for your dinner menus…Non-intimidating recipes and…killer food photography to boot."
—Washington Post

"Elevate morning staples into hearty, interesting dinner fare."
—The Star-Ledger

". . . promises some breakfasts worth staying up for."
—New York Journal of Books
Congratulations, Lindsay and Taylor! And thanks for the food.